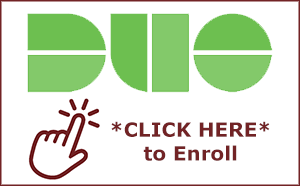 Duo is a form of two-factor authentication that uses an app on a mobile device, a text, a phone call, or token to verify the person logging into your account is actually you.

Duo authentication methods:
Push Notification
Send a push notification to your mobile device.
(Recommended method)
Passcode
Send a passcode to a mobile device via text message.
Phone Call
Have Duo call a phone. This can be a cell phone or a desk phone.
Token
Use a token to generate a passcode
Watch videos of these authentication methods here.
---
If you do not have access to device that is compatible with the Duo Mobile app, or access to a phone, your department can purchase a token through MSU-Bozeman by clicking the Request Token button.