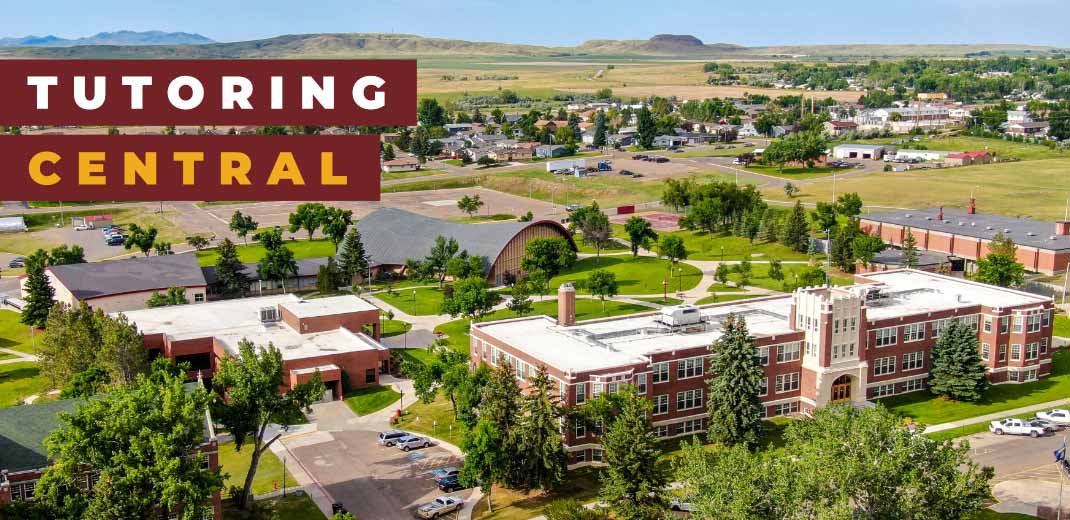 Tutoring Central at MSU-Northern is here to serve our student population in a supportive environment through tutoring in the high-impact areas of writing and mathematics at all skill levels. Tutoring may also be available, according to demand, in lower division courses, as resources allow.
Need a tutor?

Get the boost you need to achieve academic success!
Sign up for a tutoring session by:
Emailing a Tutor below

Come by Student Support Services or the Little River Institute today
Tutoring Central offers the following resources as a means to provide support for all MSU-Northern Students:
Professional Math + Writing tutors are embedded in certain math and writing courses, students can connect with professional tutors through Tutoring Central or through their course in Brightspace.
Face-to-face tutoring is available in Student Support Services (Cowan Hall 211) or the Little River Institute (upstairs of the Student Union Building).
Walk-Ins are welcome and will be connected with a tutor when one is available.
*Tutoring sessions can also be moved to the Library as needed.
Tutoring Central can also accommodate group tutoring sessions within a center (SSS + LRI) or virtually if requested.
MSUN Professional Tutors
MSUN Student Tutors: Come Meet with Us in Student Support Services (Cowan Hall 211)
Brailynn DeMers
PLUM 100/PLUM 191-109 / PLUM 230 / WELD 106 / WELD 114-260 / WRIT 122 & More!
Tristan Gauer
BIOB 101/102L / BIOB 160/161L / BIOH 105/105L / BIOH 201/202L / BIOH 211/212L / BIOM 250/251L / BIOO 220/221L / CHMY 121/122 / CHMY 141/142 / CHMY 143/144 & More!
Olivia Isakson
WRIT 101/101L / LIT 110 & More!
Tanner McCliment-Call
ACTG 201/ACTG 202 & More!
If you need assistance in a course that you do not see listed, please e-mail tutoring@msun.edu and you will be placed with a tutor who specializes in your requested subject area.
Tutoring Central at MSU-Northern, under the Office of the Provost, is a collaborative effort of TRiO/Student Support Services, the Little River Institute, the Math Lab as well as faculty to provide MSU-Northern students access to experienced tutors in a wide range of disciplines. Tutoring Central includes professional tutors and student tutors approved by faculty.
Tutoring Central is under the direction of the MSU-Northern Tutoring Oversight Committee.
For questions regarding Tutoring Central or if you would like to apply to be a student peer tutor, please contact the MSU-N Tutoring Oversight Committee at tutoring@msun.edu.