Highlights of the NAIA National Wrestling Championship
By Tyson Thivierge - Head Wrestling Coach


The MSU-Northern Lights Wrestling team recently competed in the 60th NAIA National Wrestling Championships in Topeka, KS. The Lights sent five competitors to this year's tournament and all entrants found success with two of them competing on the final night during the championship finals.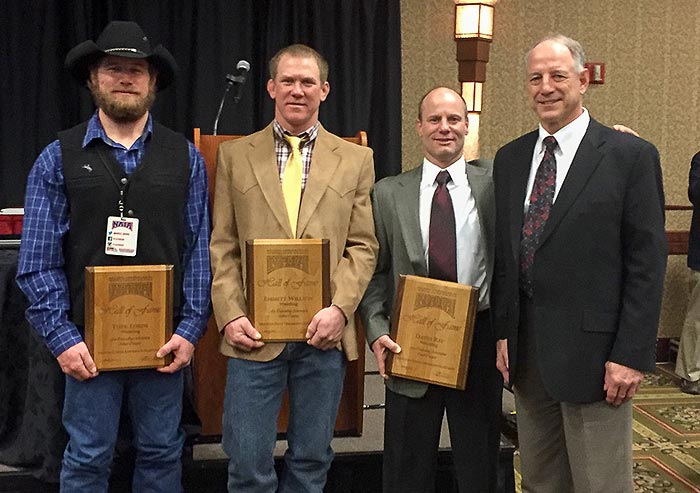 Also while at the National Tournament, former coach David Ray was inducted into the NAIA Hall of Fame with two of his former wrestlers, Turk Lords (4x NAIA National Champion) and Emmett Willson (3x NAIA National Champion and 4x All-American).
Three of Northern's National Qualifiers included Matt Weber at 141 (a 2016 All-American), Drake Randall at 165 (a 2016 National Qualifier) and Taylor Kornoely at 285 (2016 NAIA National Runner-up). These three competed extremely hard, but ultimately fell short of making it to the All-American round on Saturday of the event. Taylor Kornoely ends his career as a 3x All-American and is scheduled to graduate next May 2018. Matt and Drake will be back for the next two seasons looking to improve on this year's results.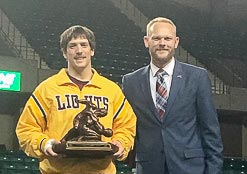 Two Light's wrestlers were able to battle away, win after win to make the finals on Saturday night. Brandon Weber at 157 and Ben Stroh at 184 navigated through their brackets with exceptional performances to land them in the finals and a shot at a National Championship. Sophomore Brandon Weber pinned his first two opponents before running into regional rival Hunter Hodges of Southern Oregon in the semifinals. Brandon was able to notch another win claiming a decision 5-1 to advance to the championship match. With three Hall of Fame inductees in attendance, Brandon overcame an early deficit to claim an individual National Championship with a 6-2 overtime decision over #1 ranked Cam Tessari of Lindsey Wilson. For his performance, Brandon was named the NAIA National Championships Outstanding Wrestler. His overall season record is 27-5and Brandon's championship makes him the 31st individual National Champion in Northern's storied history.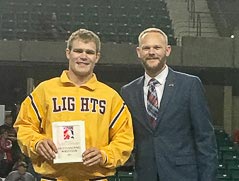 Next up for the Light's was senior Ben Stroh at 184! Having transferred from the University of Wyoming in the fall semester for his last season of competition, Ben wanted to make the most of his opportunity to wrestle in front of his longtime fans. Ben did just that while disposing of his first two opponents by pin and setting up a semifinal match-up with defending National Champion Michael Pixley of Grand View University. Ben controlled the match from the opening whistle and punched his ticket with a 6-4 decision. During Ben's finals match, he gave fans and coaches plenty to sweat about as scramble after scramble occurred and Ben winning his National Title by a 6-5 decision over Chuck Sharon from Campbellsville University. Because of his season of dominance, Ben was named by the coaches association the NAIA Wrestler of the Year. Ben concluded his season with a record of 45-2, with his last loss coming on November 5, 2016. Ben is now the 32nd National Champion in Northern's history.