Student Athletes of the Year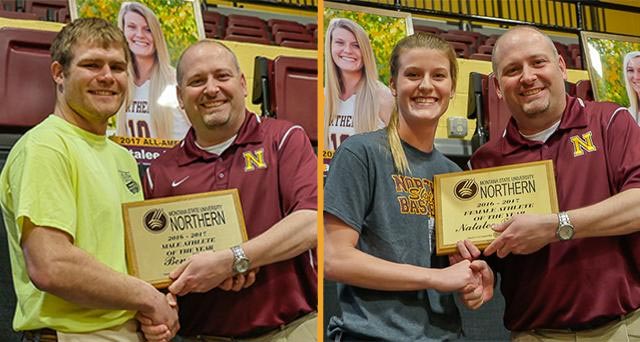 The 2017 Male and Female Athletes of the Year were announced at the 12th Annual NLASF Spring Fling Dinner and Auction Friday night. Senior Ben Stroh was named the Male Athlete of the Year, while senior Natalee Faupel earned the women's honor.
Stroh, a Chinook native, captured the NAIA National Championship at 184 pounds. He won seven tournament titles throughout the season, and finished with a record of 45-2. He ended the season on a 41-match winning streak, and was named the NAIA Wrestler of the Year.
Faupel, from Butte, was named an NAIA First Team All-American for the second straight season. She holds numerous Skylight basketball records, and is the programs all-time leading scorer with 1829 points. She was a First Team All-Frontier selection for three consecutive years, and was the 2016 Frontier Conference Most Valuable Player.
12th Spring Fling Annual Dinner and Auction
The Northern Lights Athletic Scholarship Foundation hosted its 12th Annual Spring Fling last Friday night complete with cocktails, dinner, entertainment, and many auction items. Northern supporters showed up in droves, ready to participate in one of the greatest fundraisers of the year. The money raised at the event goes toward scholarships for student athletes. Several awards were given including the Bob Bricker Shining Light Award, which was presented, to Jim & Carrie Kato (Pictured above).